We have a winner in the Blog Florida Blue Logo Contest. And here it is: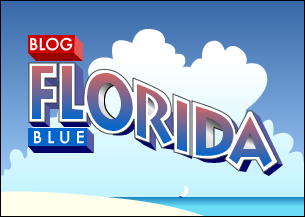 Many thanks to
Storm Bear
for submitting the winning logo.
So, what are we going to do with this fantastic logo? Well, we have a lot of work to do to
Blog Florida Blue
, so let's talk about it below the fold...
First, I would once again like to thank all the
very talented Kossacks
out there who submitted designs for the Blog Florida Blue Logo. As one who can't draw a straight line with a ruler, I am
in awe
of all the creative talent in this community.
As I stated in the
Blog Florida Blue
diary back in May:
I'd like to invite all Florida bloggers to adopt this brand name (and now this logo) whenever they are blogging on the effort to elect Democrats and build the Democratic Party in Florida. Blog Florida Blue can be a powerful branding device linking otherwise disparate efforts from Key West to Pensacola.
There are a lot of interesting things going on in the Florida blogosphere and the
Florida Netroots
these days. In June, we had the
Bloggers Luncheon
at the Florida Democratic Party (FDP) Jefferson Jackson Weekend. There are too many things going on at the
Florida Progressive Coalition
to mention in a single diary. One item of particular interest is
Florida Progressive Radio.
This is done through Blog Talk Radio. Their
second show
had FDP Internet Director
Phillip Perry
as their special guest. I particularly liked FPC guru
Ken Quinell's
Crashing the Gates in Florida
Diary.
In the end though, the point of all this activity is to get more Democrats elected to public office. Since this is a Presidential election cycle, there is a huge amount of interest being paid to that particular process, and rightly so. However, if we are really going to be successful in
Blogging Florida Blue
, we are going to have to think longer term and more strategically. Sites like
Build Florida's DEC's
can help us do that, because we definitely need help building our party infrastructure. We just had a special election for an open
Florida State Senate seat (SD-3).
This election did not go the way we wanted for any number of reasons. There are a lot of good diaries that gave
tactical reasons
why we were not successful. In
Reflections on SD-3
, I take a more strategic look at the loss.
We also need to pay a lot more attention to "building our bench" here in Florida. Local elected officials are like stocking your farm team with up and coming talent. Most of the best candidates for higher office have had prior public service experience, mostly as elected public officials on the local level.
Congresswoman Kathy Castor
was a Hillsborough County commissioner first.
State Representative Rick Kriseman
was a St. Petersburg City Council Member before getting elected to the Legislature. And if you think losing an election is the end of a political career, think again. The best political move our
Governor Charlie Crist
ever made was taking on a losing effort against
US Senator Bob Graham
.
We have a lot of work left to do to
Blog Florida Blue.
But we have a great launching pad coming up in October at the Florida Democratic Party Convention in Orlando. We are going to have the
Bloggers Conference
as an official part of the agenda. And we are looking for a special guest speaker to keynote the Bloggers Conference. We have already started putting out feelers to get a certain guy named
Markos
from
DailyKos
to give the keynote address. So I just want to end this little missive with a shout out:
Attend our effing Convention Kos!