Yes, Thanksgiving is almost upon us. Thanksgiving is a wonderful time of year to reflect on all that we have to be thankful for. I am thankful for many things, including the past year (almost) that Florida Kossacks has been in existence. So, I thought I'd get a jump start on the New Year's look back posts and do mine now at Thanksgiving and as we approach the one year anniversary of the Florida Kossacks blog.
It all started
on
November 28, 2006
my __th birthday. And as the first post said:
We can blame this whole thing on Susan S. She thought a Tampa Bay Kossack email list would be a good thing to put together after the election. I thought that was such a good idea that I have been trying to expand it across Florida.
Maybe that is why
Susan S
was named
Netroots Activist of the Year
? Well, probably not the only reason.
Before November 2006 was out, we went on to blog about the
FL-13 Re-Vote Rally
and the word on the street about
Florida moving up it's Presidential Preference Primary
. Have we been talking about that for a whole year?
Tally
kicked off December 2006 with a couple of extremely thoughtful posts titled
The Future
and
The Plan

.
Tally, where ya been buddy? We miss ya.
December went on the bring
the start of my "How to Talk to" series
. (I need to get back to that.) The series in December included
How to Talk to Fear Mongers
,
How to Talk to the Main Stream Media
and
How to Talk to Small Business People
. More on small business people in the very near future. Stay tuned.
December ended with a couple of
very silly
predictions posts
here
and
here
. At least I got the things about the
Florida Gators winning national championships
and
Al Gore winning the Oscar
right.
As this year started, I blogged about
taking local action
. We also had the
special election in HD-3
, which Tally blogged
here
and
here
. We lost that special election because we did not get our vote out. This caused me to write about one of my really pet peeves in
What Every So Called Political Professional Needs to Know
.
In March we got a significant victory as
Mary Mulhern was elected
to the
Tampa City Council
, defeating an incumbent Republican. And if you don't do anything else, check out the
video of Mitch Kates at the Mulhern victory party
. If that doesn't get you fired up, I don't know what will.
And of course in the spring we also had the
regular session of the Florida Legislature
. There was
a lot of talk
,
but
no action
, on
property taxes
at this session. Seems this is something else we are still talking about. We did get
paper ballots
and the beginning of the messy debate about
moving up the presidential preference primary
.
It was in early May, however, that what I feel is
the most significant piece of the year
was posted on this blog.
Blog Florida Blue
starts out like this:
Last week, representatives from the Florida Progressive Coalition , Florida Netroots and Florida Kossacks held a conference call with staff from the Florida Democratic Party. The topic of the call was upcoming opportunities for bloggers to interact with the FDP, particularly at the Jefferson Jackson dinner in June and at the FDP Convention in October.
It wasn't the post, really, that was significant as it was the meeting and what came out of it.
Meowmissy
had gotten a ball rolling that resulted in the
Bloggers / Netroots Luncheon
at the
FDP's Jefferson Jackson weekend
in June, the
Netroots Conference
at the
FDP Convention
in October and the formation and official induction of the
FDP Netroots Coalition
as
an official part of the Florida Democratic Party
! And of course, we came up with this wonderful logo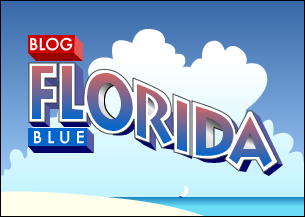 for good measure.
We just came off
local elections
here in St. Petersburg (see, we're still talking about property taxes) and we are looking intently at the
polls for the Florida Presidential Preference Primary
on January 29th (still talking about that too.) But I just want to say that
I am really thankful
for
all the new great Democrats
I met this year, both online and off. I am really thankful for
all the great Democrats I knew before this year
as well. I am thankful that ,
together, we have the opportunity to make a real difference
in the elections next year and
if we do continue to work together, we will make that difference.
Happy Thanksgiving!